Seychellois yoga enthusiasts mark International Day of Yoga with mass session
The 45-minute yoga session was held at the Palais des Sports Indoor gymnasium. (Indian High Commission)
(Seychelles News Agency) – Over 350 individuals in Seychelles from different walks of life attended the ninth International Day of Yoga event held on Saturday, June 17, under the theme "Yoga for World as one family".
Organised by the Indian High Commission, the 45-minute yoga session was held at the Palais des Sports indoor gymnasium. Speaking on the occasion, the High Commissioner of India, Kartik Pande, spoke about the benefits of yoga for mental and physical health, highlighting the growing popularity of yoga in Seychelles.
"The first International Yoga Day was held in 2015 and from there became more popular every year due to the benefits that it brings. You can see through the number of turnouts today that it is very well-liked as it gives benefits to your mind and body, and that is the objective," said Pande.
He explained that it was in 2014 that the Prime Minister of India made a proposal to the United Nations General Assembly that since yoga is a very good exercise for both mind and body, maybe it should be done at the world scale, which the United Nations agreed. This resulted in a resolution that was supported by 175 countries including Seychelles.  
Originating from India, yoga is an ancient Hindu physical, mental, and spiritual practice. According to a number of sources, practicing yoga helps to improve general wellness by reducing stress, supporting good health habits and improving mental and emotional health. It helps with relieving lower back and neck pain, helps with weight loss, and management of the symptoms of some chronic diseases.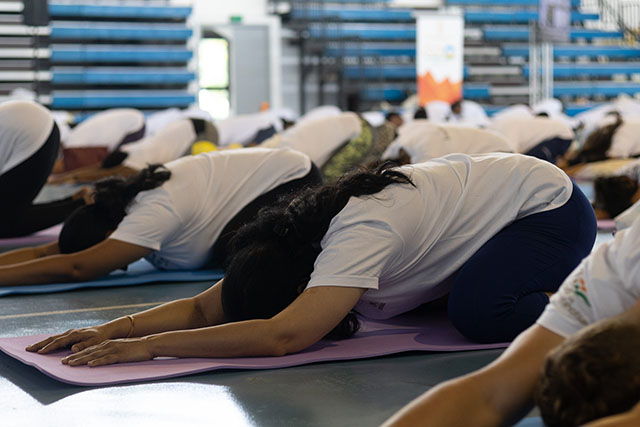 Pande spoke about the benefits of yoga for mental and physical health. (Indian High Commission) Photo License: CC-BY 
A participant in the mass yoga event on Saturday, Daryl Sinon, shared with SNA that since he started practicing yoga, he has noticed great improvements in his state of well-being.
"I have been practicing for about a year now, and I can say that I am a completely different person from when I first started. Through my own experience, I have noticed that yoga has helped with my focus, to relax my mind, my body is also more flexible and I am more mindful. I am aware of more feelings within my own body that I wasn't noticing," said Sinon.
"I see myself doing yoga throughout my life," he continued, sharing that he practices yoga three to four times a week.
Another participant, Frances Benstrong, shared that though practicing yoga she is better able to deal with day-to-day problems.
"Yoga is a very powerful tool that has been left for us to use. Practicing it is so peaceful, and I usually see that all the problems of the day, or problems in general, just go away. It is easier to find answers to some problem when the session is over," said Benstrong.
She shared that yoga was recommended by a friend as she is someone who loves nature and peace in general.
"I have been attending classes since December and it was love at first sight. The more I learned about yoga, the bigger my love for it grew. I am now committed to it," she shared.
Yoga: a physical exercise or a gateway to Hinduism?
Seychelles is a predominantly Roman Catholic country and the introduction of yoga in society brings questions of its compatibility with Catholicism because the best-known practice of Hindu spirituality is yoga, even if those who are undertaking such classes may be unaware of this.
According to the Belfast Telegraph, Father Roland Colhoun said: "Pope Francis said 'do not seek spiritual answers in yoga classes'. Yoga is certainly a risk. There's the spiritual health risk."
According to Catholic.org, "Catholics should not participate in any of the "spiritual" aspects associated with yoga, but technically can do the actual physical exercises. However, many people who practice yoga caution that it is often difficult, if not impossible, to separate the exercises from the meditations."