Seychelles wins 22 medals at Indian Ocean Island Games
Seychelles' first medal came from swimmer Felicity Passon who finished second to win silver in the women's 200 metre freestyle. (NSC Seychelles)
Team Seychelles has won 22 medals in total after the second day of the 11th edition of the Indian Ocean Island Games taking place in Madagascar.
After day 2 of the IOIG, Team Seychelles won 10 silver medals and 12 bronze medals.
The Seychelles swimming team won most of the medals for the first two days. 
Seychelles first medal came from swimmer Felicity Passon who finished second to win silver in the women's 200 metre freestyle.
Passon received her first medal with Seychelles' First Lady Linda Ramkalawan. (State House) Photo License: CC-BY  
She received her medal from Seychelles' First Lady Linda Ramkalawan who said: "It was a moment of great emotion for both Felicity and myself. Congratulations to our flag bearer for once again leading the team. We continue to support our athletes in Team Seychelles."
Passon, the best sportsperson of Seychelles in 2019, won six medals in total. She also won two silver medals in the women's 50m and 100m butterfly, and a bronze in the 100m backstroke.
She also won medals with the relay women's 4×100 freestyle, which included Khema Elizabeth, Sofie Frichot, and Aaliyah Palestrini, and the 4×100 mix medley with Adam Moncherry, Simon Bachmann, and Khema Elizabeth.
Another swimmer who won 4 medals was Simon Bachmann. He won silver in 200m freestyle and bronze in 400m freestyle. Bachman was also in the relay men's 4×100 with Adam Moncherry, Amos Ferley and Nathan Nagapin. The team came out third to win the bronze. He was also part of the mixed medley that won a bronze medal.
Swimmer Adam Moncherry also won an individual silver medal when he finished second in the men's 50m butterfly. In Handi-Sport swimming, Frederick Gappy won the silver medal in the men's freestyle 50m.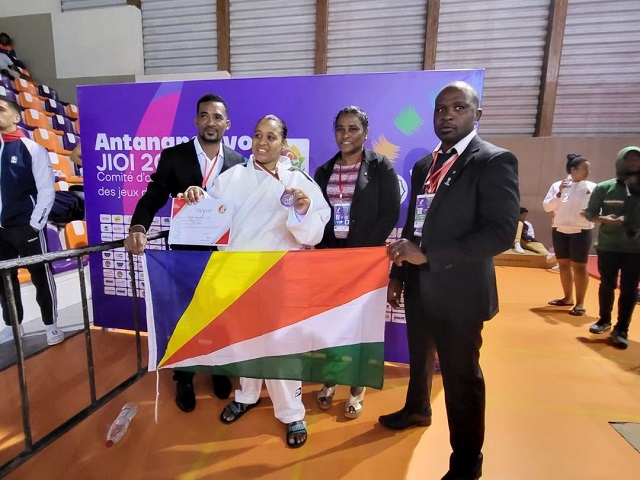 Payet won a silver in judo. (NSC Seychelles) Photo License: CC-BY 
Seychelles also won medals in judo with Amanda Payet winning silver and Dominic Dugasse getting a bronze medal.  
In weightlifting, Rick Confiance grabbed three silver medals in the 73kg class, 121kg in snatch, and  145kg in clean and jerk.
Leeam Robert also won 3 bronze medals in the 61kg category for weightlifting.
In boxing, Shain Boniface in the 67 kg category and Adrian Volcere in the 76 kg  reached the finals after winning their semi-final bouts.
Three silver medals for weightlifter Rick Confiance. (NSC Seychelles) Photo License: CC-BY 
Boniface defeated Malagasy Velomarompianoa on points and Volcere by RSC – Referee Stopped Contest – against another Malagasy Eric Mbake.
Two other boxers, Fabio Roselie in 57 kg and William Mohamed lost on points to Reunion and the Comoros respectively.
The President of Seychelles, Wavel Ramkalawan, sent words of congratulations to all the other Seychellois athletes who have clinched medals in various disciplines.  
Meanwhile, in the team sports, Seychelles won both first matches in the men's and women's volleyball competitions.
The women's team, who are the defending champions, won its first match 3-0 against the Maldives in group B, while the men's side defeated Comoros 3-1.
"Congratulations to our Seychelles women's volleyball team on their win 3-0 against Maldives!," said Ramkalawan.
He also congratulated the Seychellois judokas and boxers who have qualified for the finals.
"We are proud of your efforts and will keep supporting you all the way! Keep up the team spirit," said Ramkalawan."
Seychelles lost in the basketball 3×3; Seychelles 21-17 to Mayotte and the ladies 17-21. In the basketball 5×5, the Seychelles women's team lost 109-21 against Reunion.
In handball, Seychelles lost 43-13 to Reunion in the men's competition and also in the women's event 99-19 against Madagascar.
After the first two days of competition, Seychelles is fifth on the medals table, which is led by Madagascar with 70 medals – 42 gold, 14 silver, and 14 bronze. Reunion is second followed by Mauritius.
In the last competition in Mauritius in 2019, Seychelles finished 4th with 111 medals which included 28 gold medals.